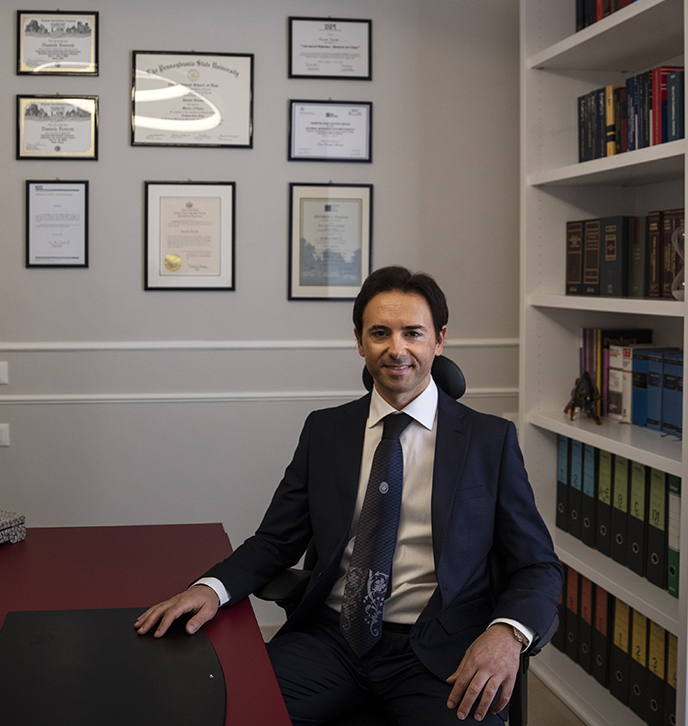 Daniele Ferretti was born in Montecatini Terme, Italy, on February 20, 1976. After earning a high school diploma in classical studies from Liceo Carlo Lorenzini (Pescia, Italy) and graduating from the University of Florence, School of Law, he was awarded several scholarships from national and international universities and training institutions (including Hamline University, School of Law, Libera Università Carlo Cattaneo and ISPI School). Along with an award received from Louis F. Del Duca, professor emeritus of law, he obtained a Master's degree in Economics and Corporate Law, post-graduate certificates in Negotiation, Mediation and Arbitration, an Advanced Diploma in Chinese Business and a Master of Laws (LL.M.) in Comparative Law from the Penn State University, School of Law.
He was admitted as attorney-at-law in Italy in 2005 and was called to the bar in New York in 2009. Prior to establishing its own law firm, he practiced in Italy and abroad for some of the most prominent international arbitration organizations and law firms. In 2012, he was appointed as officer of the International Bar Association (IBA) Product Law and Advertising Committee, the main international organization of legal practitioners, where he currently serves as Co-Vice Chair. In 2017, he founded Ferretti Firm and was appointed as Of-Counsel for a leading international law firm, for which he previously acted as Associate Partner. In 2019, he joined the international network IR Global as its exclusive insolvency member for Italy.
His practice mainly focuses on helping businesses thrive internationally, working at different levels to enhance their competitive position on a global scale, advance their goals, manage their risks and protect their strategic assets. Given his educational and professional background, he represents a number of subsidiaries of Italian companies operating in the United States. When the intricacies of international law require to work with outside counsel, he relies on an extensive and trustworthy network abroad to solve the countless legal issues that his clients, which include prominent Italian and foreign companies, face when operating globally.
He also serves as counsel to several local branches of Confindustria, the main Italian association of entrepreneurs, where he is frequently engaged in seminars, workshops, B2B meetings and conferences, held, among others, at: Confindustria Toscana Nord, Confindustria Toscana Sud, Assolombarda, Confindustria Como, Associazione Industriale Bresciana, Confindustria Lecco e Sondrio, Unione degli Industriali della Provincia di Varese, Confindustria Piacenza, Confindustria Udine, Assindustria Venetocentro, Confindustria Vicenza, Confindustria Verona, Confindustria Venezia, Area Metropolitana di Venezia e Rovigo, Unione Parmense degli Industriali, Unindustria Reggio Emilia, Confindustria Emilia, Area Centro, Confindustria Ancona and Confindustria Romagna.
He is author and co-author of several legal publications in Italy and abroad.