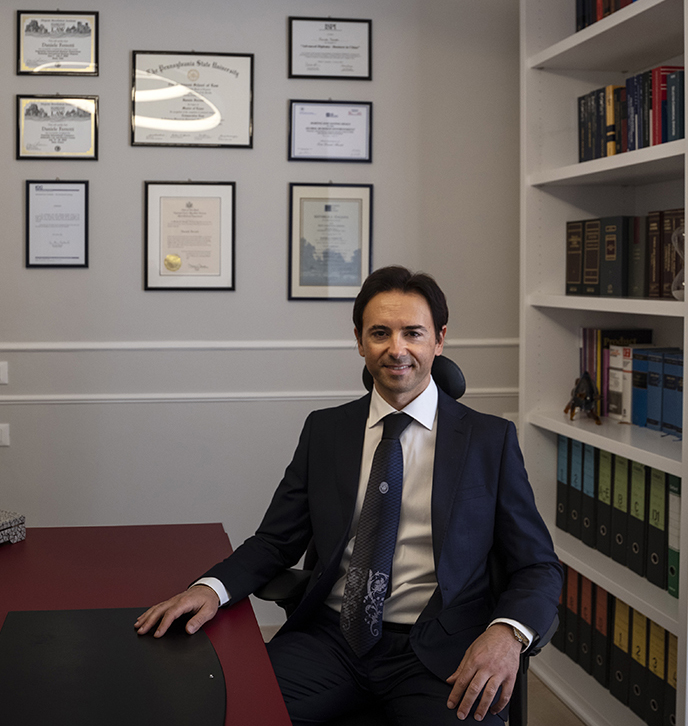 Mr. Daniele Ferretti is a resourceful and highly experienced legal counselor, committed to bring value to its clients by providing strategic and creative advice aimed at achieving specific goals and solving sophisticated legal issues in all aspects of commercial litigation and business transactions.
He has an established reputation as a tireless, influential, persuasive and determined advocate in consummating deals and resolving disputes. His distinctive blend of litigation, business and transactional experience, along with his unwavering dedication to leave no stone unturned in the face of challenging odds, support his determination to achieve perfection and excellence.
Mr. Ferretti's clientele include public and private companies, strategic investors, entrepreneurs, high net worth individuals, domestic and international emerging and mature companies, holders of internationally recognized brands, apparel companies, retailers, luxury goods manufacturers, commercial and consumer product manufacturers, construction companies, JV entities and a number of private business owners.
His representation encompasses domestic and international disputes, including AAA, ICSID and ICC arbitrations, major M&A transactions, investments, divestitures, joint ventures, strategic alliances, acquisitions, buy-outs and carve-out transactions, private equity and venture capital deals. He often serves as outside corporate counsel to business owners, entrepreneurs and domestic and international companies.
In his notable career, Mr. Ferretti has been quoted extensively as an expert by numerous national and international publications, including the New York Times, The American Lawyer, The Silicon Review, Business Sight and Milano Finanza. He has repeatedly received national and international awards and recognition on various legal matters, from formation and financing through the acquisition, growth, restructuring, merger or sale of business interests and dispute resolution matters.